We are working hard to keep your personal information safe, secure, and private.
You may be wondering... what does Corporate Software Australia do with my personal information it collects online? Whether we are requesting your credit card number or your home address, Corporate Software Australia and its contracted partners use your personal information to service your requests and to improve our Web site. Occasionally, we may want to send you information about promotions or special products. But if you don't want us to contact you about related information and products, that's okay, too. We will respect your wishes.
We want you to feel comfortable about visiting our Corporate Software Australia Web site and giving us your personal information. Therefore, we are in the process of implementing the following privacy practices around the world:
We will let you know any time we collect your personal information.

We will not sell your personal information to other companies.

We will explain why we collect specific data and give you the ability, where appropriate, to review and update your personal information.

We always protect your online Corporate Software Australia store transactions with the Secure Sockets Layering (SSL) 128-bit encryption, the accepted standard of the Internet community.

We will give you the option to choose whether you'd like to receive e-mail from us. And when you do receive an e-mail from us, we will offer you the option to discontinue receiving e-mails.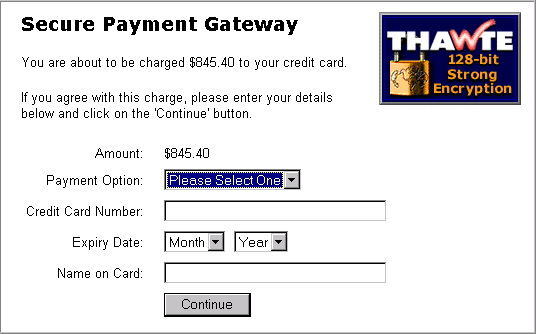 As the Internet matures, so will our policies pertaining to privacy information. We will post policy changes on this page as soon as the commitment has been made to alter any standing policy.
The security and privacy of your personal information are very important to Corporate Software Australia. We hope we have eased your concerns.
If you still have questions about Corporate Software Australia's privacy practices, contact us at webmaster@corpsoft.com.au
Thank you for visiting Corporate Software Australia's Web site.
IMPORTANT! For your protection, Corporate Software Australia does not store customer credit card information on their internet servers. Accordingly, customers must re-enter credit card information with each purchase
nb. If you do not wish to provide you credit card details over the Internet simply complete the online order form and then at the payment section select "Please Call Me". See Order Options